The seafood analytics innovators
In 2019, Maritech and Sea Data Center formed a strategic partnership to cooperate closely in developing innovative seafood data analysis tools. Today, we are together providing valuable insights for the seafood industry world-wide,  with unique market intelligence and benchmarking tools.
The big picture
Sea Data Center, located in Reykjavik, is a leading provider of global market data and analysis for fisheries and aquaculture. The market information is delivered through both the web portal seadatacenter.com as well as through a Microsoft Power BI analytics tool, transforming complex data into valuable market information and insights. The services support seafood professionals in their decision making processes and improves their company operations, providing the big picture view on market developments and supply and price trends.
For over 40 years Maritech has been working closely with the seafood industry, digitizing manual processes and enabling full traceability through creating world-leading software solutions for the seafood value chain. Analytics is one of Maritech's most important focus areas and has, for several years, been one of the top technology trends in the world, across all industries and geographies. As a joint team, Maritech and Sea Data Center are bringing together a unique set of market intelligence and benchmarking tools, allowing customers to overlay the latest seafood market supply and pricing trends against their own data.
Passion for seafood data
Sea Data Center is now representing the full Maritech portfolio in Iceland, as a part of the global Maritech Group. Anna Björk Theodórsdóttir is Managing Director and co-founder of Sea Data Center, and also a key resource in Maritech's Analytics team.
"We provide key information on global seafood supply and price information that enables our customers to benchmark their products to the market. What is unique is that we offer a 360-degree view of the seafood industry, with latest developments on supply and raw material prices, trade trends and consumer prices, all in the same place. Furthermore, the platform offers product and species trade trackers providing the user with an understanding and insight of the big picture. This overview is not provided by anyone else – you can describe our services as a "Bloomberg" for seafood. Supporting our client's decision-making processes and risk management enables improvements to their company operations as they get a better understanding of the global market conditions, sales channels, product opportunities and the real value of their product."
"The main challenge for the companies is that seafood data comes in different formats through various sources, which makes it difficult and time-consuming to sift through and extract the most relevant information. We are helping our customers by gathering transparent market information in a cost effective and timely way, and at lower risk than through a manual process or by using other, less complete solutions."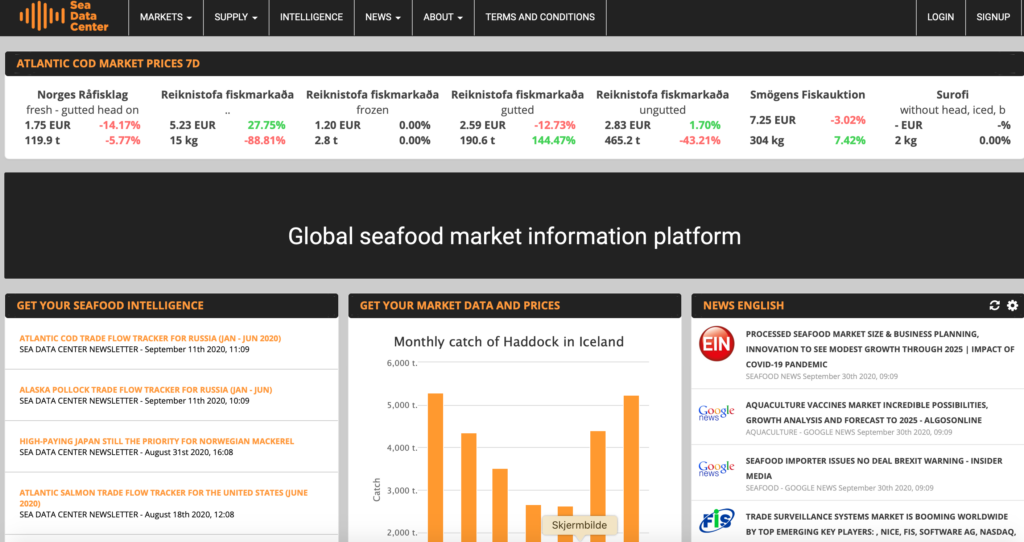 Launching new cod report
At this year's NASF in March, Maritech and Sea Data Center presented the Salmon Report, our first joint launch of 2020. In our webinar "Opportunities and challenges in the Atlantic Cod markets. Strategic outlook with Seafood Data Analytics and Price Forecasting" October 1st, we presented a first taste of our new Atlantic Cod Forecasting Report, which will be launched in the end of October. Please do not hesitate to ask us for a recording of the webinar.
"In the current uncertain climate, planning your catching, processing or sales in 2021 will be a challenge, says Theodórsdóttir. "Making strategic choices for the next year will leave you with difficult decisions. There is a lot of uncertainty to deal with in fisheries, but with data constantly getting more abundant and accurate, you can base your decisions on the best available information to reduce risk and with better predictability. The report includes supply and price forecasting for all major whitefish species."
"Data has become more abundant and more detailed in all parts of the industry and data-based decision making is already here. Companies that use data and analytics to shape their decision making have been shown to outperform their competitors. You shouldn't lag behind because you don't have the information your industry rivals have."
Sea Data Center has vast experience in collecting, analyzing and presenting data for fisheries and aquaculture, and our forecasting model takes all the important influencing factors into account on the supply, demand and trading side of the industry. "Our forecasting is based on the best available data in all major supplying nations and markets, including stock development, quotas, catch trends, trade and demand and price trends in all of the major markets. Our analysis shows the results of our forecasting model that predicts supply from all major supplying countries with a breakdown of the most important product categories. Price trends for the last year will be shown as well as a predicted price trends for the next year and likely development for the next three years."
Planning and strategizing your next moves is no easy task, but we are here to help.

Anna Björk Theodórsdóttir, Managing Director Sea Data Center
Customers say
"Important to understand exports of whole fish into production countries"
"Interesting to discover new market openings for my product"
"Gives a good view of the BIG picture and the latest market trends."
"Seadatacenter.com is an operating tool / work tool for the seafood industry"
"Easy to spot new markets and use the data for comparison – us vs. the market"
"We export large volumes and seadatacenter.com gives us easy access to price data that we use to verify market prices for our core products"
"The trade flow analysis is highly valuable, easy to map the trade, where the fish is caught and where it goes, the product flow."
"We are selling a niche product into a niche market. Seadatacenter.com gives us the opportunity to easily calculate our market share and evaluate our product price."
"It is important to follow the price trends between years"
"It is highly valuable to have the market knowledge that seadatacenter.com provides "It is crucial to have an overview of the supply entering the market."
"Having access to data from a third party to validate any price changes is essential."
"Valuable to have an overview of the supply in foreign markets and all in the same place."
"We want to follow consumer prices for cod fillets"
"It is valuable for us as a producer to be able to monitor the product price for the consumer."
Curious?
We are eager to tell you more