Unique and powerful value chain insight
Maritech's Analytics platform gathers and overlays data from all relevant sources, so you spend less time searching for data and producing reports.
Unlock the value
Are your decision making processes based on what you assume or what you know?
All seafood companies generate large amounts of data through production, processing, transportation and trading. Taken together, the data holds valuable insight into the company's operation, its markets and customers. Information which may represent competitive advantages and crucial decision making support. According to Gartner, data and analytics are increasingly critical elements across most industries, business functions and IT disciplines, and keys to a successful digital business.
However, since the data is typically stored in different databases and systems, the massive amount of manual work needed to extract, analyse and report the data is a practical block to utilizing the full power of the data. Hence, turning data into valuable knowledge is often complicated and demands a combination of the right tools and expertise.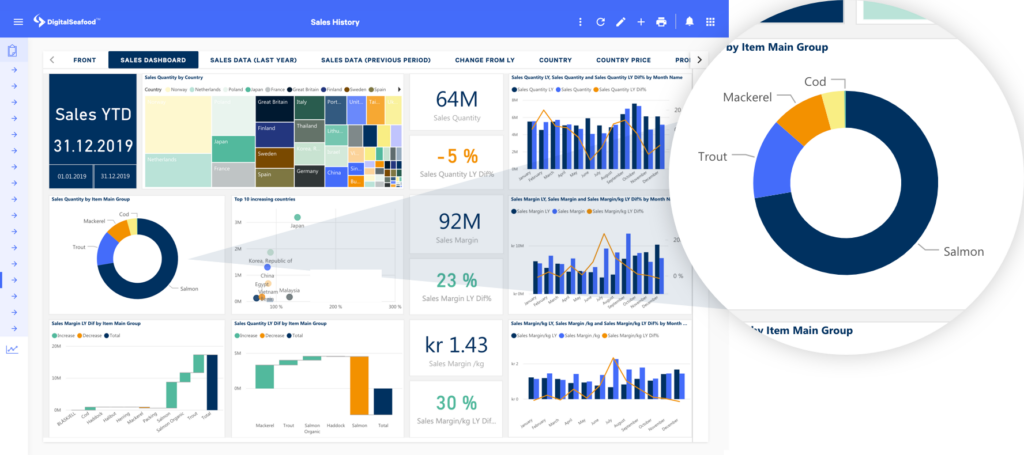 Maritech DGS Analytics
In Maritech, Data Science is one of our main focus areas. Our highly-skilled team, including several team members holding PhD degrees, is working closely with our customers to make their data analysis easy, valuable and efficient. Our analytics platform Maritech DGS Analytics is tailored for the international seafood industry, and offer you integrated analysis of data across your organization, presenting actionable insights in real-time. 
With Maritech's Analytics solution, you can turn data into insights with customizable KPIs (Key Performance Indicators) for reporting that help you move from reactive to proactive decision-making in real-time. Avoid spending time comparing and reconciling data from multiple spreadsheets — hours that could be better spent running your business. Quickly access and analyze your live company data – anytime, anywhere, from any screen using a secure web-based environment.
At a glance
Customized dashboards
Intelligent dashboards provide every individual user a sharp focus on today's status
The information can include data from multiple sources.
Spend less time searching for data and producing reports – and focus on taking action
Our team has a deep understanding of seafood, we quickly customize the tool to fit your company
You can be one step ahead instead of spending time on fighting fires
Request a recording of one of our analytics webinars
Read about our recently launched Salmon Report, a new analytics service developed in close cooperation with our strategic partner Sea Data Center.
---
Customers say
Instead of gathering data, we now spend more time on analyzing. This improves our decision making-processes.

Merete Lunde, Supply Chain Manager, Seaborn
We have seen substantial savings in time spent on gathering, analyzing and reporting of data, and moving forward.

Frode Melsether, Coast CFO
Curious?
We are eager to tell you more.